In Miss Eagle's reply to Ms Robyn's comment on my previous post, she mentioned the soup. Here are the ingredients for Miss Eagle's traditional beef soup which is beautifully rich and thick and has been simmering slowly for almost 24 hours.
The beef is shin beef - otherwise known as gravy beef. Shin beef is used in making soup because it makes a rich beef stock which is highly nutritious. Years ago in nursing courses and in primary school domestic science there used to be a subject called "Invalid Cookery". One of the highlights of invalid cookery was something called
Beef Tea
. Shin beef was used in this.
Beef Tea
was designed to put nutrients into the body weakened by illness. Miss dice and trim the beef so that nice tender morsels are part of the soup.
The potatoes are Kipfler Potatoes otherwise known as German Finger Potatoes. Kipflers are a waxy, finger shaped potato with creamy-coloured flesh. Great boiled, steamed and in potato salads and for presentation purposes. Miss Eagle likes them for soup because they are small and irregularly shaped. She leaves them whole but chooses the tiniest of them so they go well in a traditional soup plate.
And speaking of soup plates. Miss Eagle loves the traditional soup plate with the wide brim about the edge. Certainly not a deep bowl - and mugs are only for when one can only manage the chemicals in hot water known as cuppa soup. You see, there is a reason why a soup plate is large and broad and shallow. It is because it keeps soup at the right temperature - neither too hot, or too cold. If it is too hot to start with, it cools quickly. As for the wide brim, it can hold a morsel of broken bread.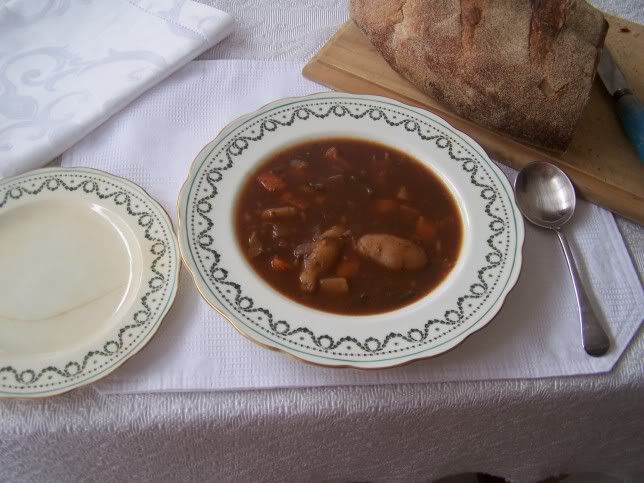 Miss Eagle prefers her very old Crescent English bone china plates. But if you can't get any vintage soup plates Maxwell Williams does a satisfactory, but slightly smaller, modern version in the famous plain white.

The herbs are fresh from the garden as with the Lamb Shanks and Macaroni. The other vegetables are onion, parsnip, and carrot (a feast of nutritious root vegetables) and mushrooms and snow peas. The little heap of grain to the left is pearl barley.
One thing Miss Eagle must say about the soup, the shanks and when you bake bread and pudding: you decorate the atmosphere of your home with aromas to die for, the aromas that become memories forever after, aromas that make one's mouth water, and make one hungry for all that is good and nutritious.