Lazy Cow
has the most beautiful celebration of The Girl's sixth birthday. It led Miss Eagle to recall something she wrote back in January 1970 about Herself who was then six weeks short of her sixth birthday. So she has dusted it off and, 36 and a half years later on that electronic whiz-bang thing called a blog, here it is.
~~~~~~~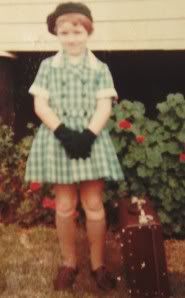 VACATION IN RETROSPECT
Tomorrow, school will resume. Girlish hands will be pulled and pushed into gloves and unruly locks covered with the regulation hat. Feet that have run free for most of the summer will be reluctantly shod in brown lace-ups.
As I look back over the past summer, I wonder what will happen to the companions of vacation time.
It all started with the "fair damsel in distress". A passion for pretty ladies found an outlet in an old green skirt (garb for many a tropical fishing expedition) and the torn-off bottom of a large paper grocery sack to which was attached an old very worn lace curtain. All this added up to one lady, mediaeval.
Through this love of pretty things, we discovered two of the greatest artists of all time - Goya and Michaelangelo. Goya's paintings of beautiful women ran a little ahead of Michaelangelo's wonderful "David".
Now, a school opening looms closer, culture and prettiness have given way to an adapted version of an ancient pastime.
Matt Dillon strides around the homestead with his Marshal's badge made from an out-of-date Chronicle; an old, upturned straw hat to shade his eyes; and a popgun and cap gun slung in an old port strap around the hips. We are asked to "holler" for a Marshal.
Tomorrow can't come quickly enough, and being in Grade 1 is a grand thing. New events will take precedence, and I wonder what will remain.
I hope that the colour and wonder of beautiful things will not fade, but I pray that Matt Dillon will, as all good cowboys do, walk off into the sunset.
Miss Eagle reports that the colour and wonder of beautiful things has never faded. Herself is a collector and a decorator and a stylist. A beautiful shop has come - and has just gone - but it is clear beauty will never fade from her life as she styles a corner here and a laundry there. Matt Dillon remains somewhere off in the sunset.