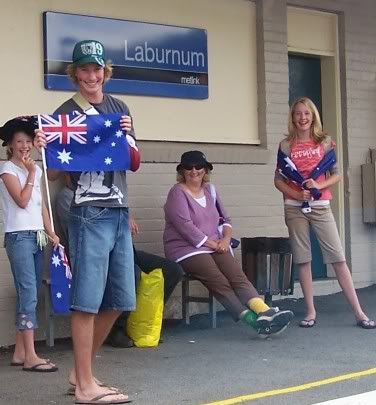 The excitement was evident this afternoon as people gathered to catch the train and head for the city. The Commonwealth Games were about to get underway in Melbourne, arguably Australia's most sports mad city.
The people above are set to go with their flags and the green and gold socks.

An old "W" type tram with wings flew into the MCG (Melbourne Cricket Ground) to begin the opening ceremony.
The MCG was the site of the 1956 Olympic Games - the first held in Australia.

The main events were about a young boy and a duck - and the boy's fantasy.
This was based on Michael Leunig's ubiquitous duck and Michael recited his duck poem
A Little Duck
by Michael Leunig
With a bit of luck
A duck
Will come into your life.
When you are at the peak
Of your great powers,
And your achievement towers
Like a smoking chimney stack,
There'll be a quack
And right there at your feet
A little duck will stand;
She will take you by the hand
And lead you
Like a child with no defence;
She will lead you
Into wisdom, joy and innocence.
The little duck.
I wish you luck.
The Queen alights from her Rolls Royce for the opening.
Cathy Freeman
brought the
Queen's Baton
into the MCG and passed it to
Ron Clarke
.
Ron passed the Baton to
Marjorie Jackson
, the Governor of South Australia
I was getting excited then. I knew there was one more runner to come.
We had seen Herb Elliot earlier in the evening on the Yarra River when he took the Baton from Ron Barassi.
With Freeman, Clarke, and Jackson on the track it was clear who the fourth person had to be.
My eyes were brimming with tears. Such history!
And yes it was - the wonderful John Landy who has just retired as Governor of Victoria.

Delta Goodrem sang the theme song.

The Queen made the speech and declared the Commonwealth Games open.
HAVE FUN EVERYONE AND DO YOUR PERSONAL BEST