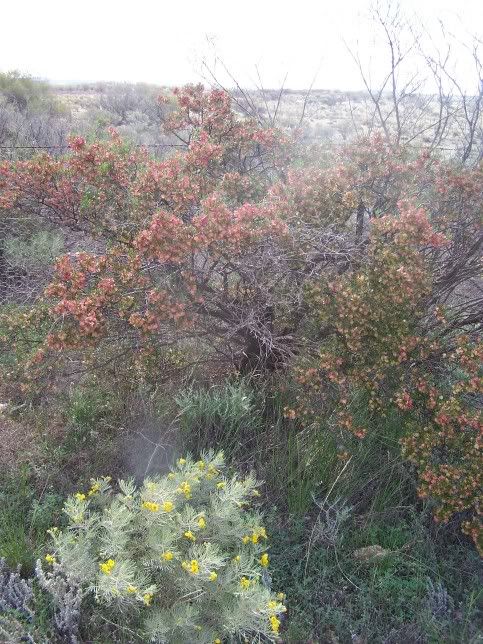 Denis is a naturalist. His knowledge of plants and birds is encyclopedic. Each morning we would watch the sunrise together from an embankment on the eastern side of the homestead. Then we would check on what was happening. A walk around three sides of the homestead perimeter (the fourth side was inaccessible) would takes us an hour. We would notice each bird, take time to find good light and photograph each bird, identify the plants and, in case a plant was questionable, collect a specimen for verification in a large compendium on plants of the Western Division.

And so the friendship developed.

A week after arrival we set off to drive back to Robertson (pop. 1000 approx) where Denis lives to spend a couple of days in a rural rainforest environment and meet some of Denis's many friends.

Denis (right) with Anni Heino of Mayday and Andrew Ford
Eventually, the time came for Miss Eagle to return to Melbourne. She got up on the Saturday morning and it seemed a good thing to her that Denis should come back to Melbourne. After Denis recovered from this shock, he agreed to come but said he felt like he had been hi-jacked! He went back to Robertson this week. So for just over three weeks we have been together and felt comfortable and tender with one another.
Now, Miss Eagle usually doesn't get this personal on her blog - but, after some of the comments over at The Nature of Robertson, it seemed appropriate that Miss Eagle made comment. Denis has a strong network in Robertson and there appears to be significant gossiping and comment.
So my life has changed dramatically in 2006. Two years ago (two years this week on 22 September) Miss Eagle arrived in Melbourne with her wings severely clipped by a long illness. Now Miss Eagle has lost 40kgs (nearly 90 lbs) since November 2005 due to a gastric lap band. She has gone back to work in local government after she was forced by illness to leave it early in 2002. And now there is an intelligent and loving man in her life who shares many of her interests and values. For Miss Eagle, Providence is stunning.