Hel-l-o-o! Yo-o-h-o-o! Yes, that's me waving at you. It seems like I have been gone for yonks but I notice that I have squeaked in one post this end-of-winter August. But life has been rather busy. I have been caught up with finishing the UFO above. Back in 1992, my mother died. Left behind was an afghan rug, unfinished, which she had been working of for a Family Member. The Director, mother of the FM, could not complete it so I said I would. Occasionally, it would come out and a few more rows would be added. Since I left work, I have put in a bit more effort going around and around until it seemed reasonable to stop and add a few more inches with tassels. Then it was done. And, coincidence, The Director was coming to overnight post-conference in Melbourne.
So, I decided to do something a little extra. I'm not very crafty but I have noticed that some craft bloggers in the USA are altered paper bags. So here is my version:
This afghan had a lot of sentimental attachment so I included an old photograph of the FM's grandparents. I wanted the bag itself, if the FM agreed, to become a keepsake so I put my mothers name on it as starting it, myself as completing it, and the FM's mother as carrying it from Melbourne to Brisbane.
One of my favourite pieces of literature is the piece from Ecclesiasticus,
Let Us Now Praise Famouse Men.
So, changing men to women, I wrote this on the front and back of the bag. And, as you can see dear Reader, there is much decoration on the front and back of the bag.
The, as The Director's birthday is later this month, I did an altered paper bag for her birthday present. At each corner, are cardboard hearts in a William Morris design sitting on two fabric rose petals laid together to form a heart. Birthday wishes are written around the inside of the rich ribbon and the name is there in print cut-outs. The back takes the shape of a paned window.
Both
Val
and
Gina
have posted about attending the Craft Fair held here in Melbourne recently. So I thought I would mention that I attended on the Friday - and, in spite of being highly organised, forgot my camera. I was there just after 8am waiting for the doors to open at 9am and left with head spinning about 1.30pm. In an organised fashion, I had mapped out before leaving home the workshops which I planned to attend. But by the time I had done three workshops, perused every stand, and was stunned by the museum quality quilts, I decided to throw in the towel and go home.
The three workshops I did were:
Working beads into your knitting
Printing on Fabric
Floral Fantasy
I was well satisfied with my choices. The workshops were informative and related to my interests so I think that is why my head was spinning and I felt sufficiently satisfied to go home earlier than I had planned.
The one I enjoyed the most was Floral Fantasy led by Gabrielle of Miss Rose and Sister Violet. I have seen Miss Rose and Sister Violet many times at Gift Fair. Gabrielle's specialties are flowers and beads and all things floral and vintage. The workshop discussed how to use the flowers and beads and the whole thing was interspersed with Gabrielle's philosophy of life: everything has to be beautiful, places like Ikea are ugly and they are invading our homes, behind every nasty man is a woman who lets him get away with it! I'm waiting for the book, I can tell you.
Anyway, here at The Trad Pad we need no encouragement to scatter flowers around hither and yon but, after half an hour with Gabrielle, I have to tell you, dear Reader, I am going OTT (over the top!). So, for Miss Eagle, it is a flower strewn path into the future as far as the eye can see.
The dining room has been the first place to feel the impact. It was already on its way but there has been a huge influx.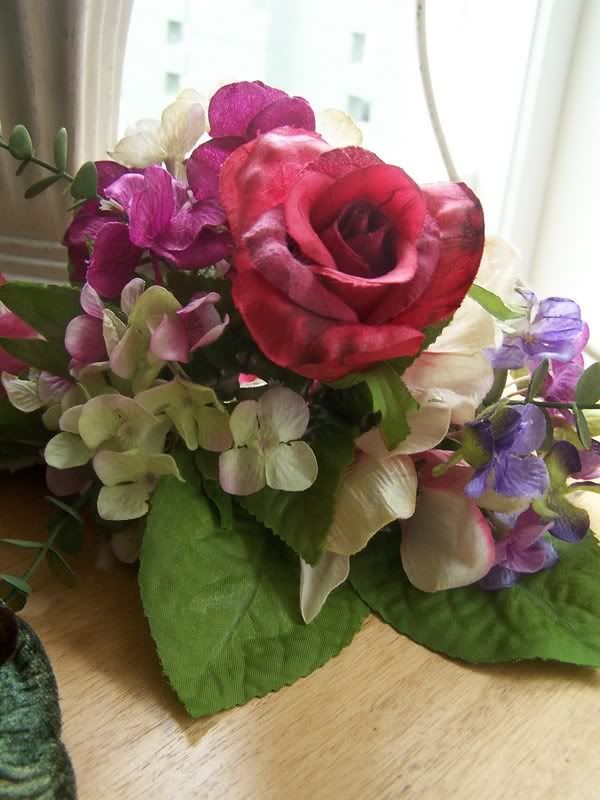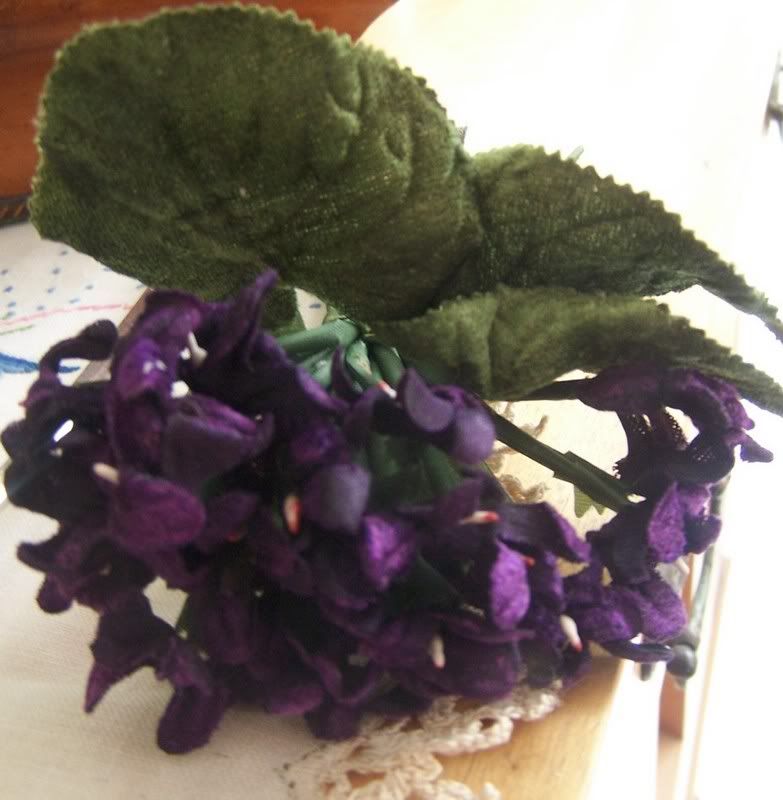 One of the inspirations from the Floral Fantasy workshop was to take my basket collection to another level. Miss Eagle does not find cane. It finds her. To date I have painted them pretty and lined them to make them even pretty. Now they will be going floral as well. But I practised first. This basket had remained unpainted and has being doing duty in the kitchen as a vegetable basket. I had these sprays (plastic) of olives and olive leaves. So I cut them up and started applying them to the basket. Simple - but oh the difference!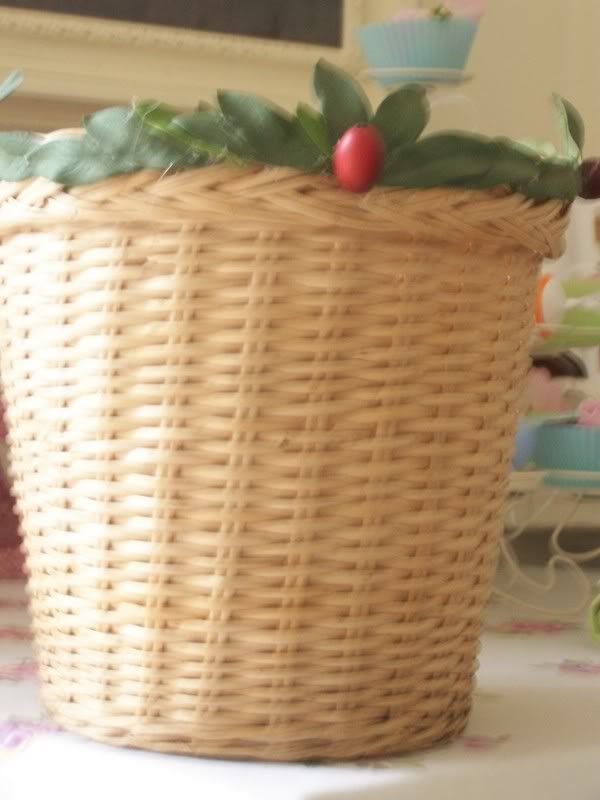 And finally I resurrected this item. An old piece of EPNS that I had painted ages ago but had never been presented in the best light. Now here it is!